Details

Category: Journey
Published on Wednesday, 15 January 2014 06:35
Written by elvia
Hits: 1584
Africa 2013 ... change place.
Massonia pustulata
After visiting South America, the friend Davide Donati suggests we go to South Africa for both the beloved plants for that the passion for fishing that unites him to Moreno.
The state, in addition to many varieties of succulents is also home to a large number of bulbs. For us a new challenge, since there is never affected too much of these kinds of plants.
Without the suitcases June 20th we leave for this destination unknown.
Aloe ferox
Being south of the equator, there is the beginning of winter: clothing and protective consequently are heavier than usual.
RecinzioniThe KLM flight landed smoothly on the runway at Johannesburg; retrieved our luggage and collected the rental car, with prudence, let's go to the hotel ... we have to get familiar with driving on the left. In the morning, after a hearty breakfast of Dutch type which we back together, we try to get out of the city, which is very difficult even with a satellite navigation system ... there are not many street signs and we have to go a little blindly. Finally, after more than an hour, we can take the right road, westbound, to get to Upington after nearly 1000 km. Along the way there are protective nets as high as 2 meters, and if you feel like you go walking up a hill that seems good for the plants before jumping the net, go to see the place hoping not to encounter the baboons who get angry and you run after, and then projecting the network, turning in the road and continue your trip (for the series: it takes a trained body). The landscape that we see leaves us amazed: this is not the Africa that we usually see on television, countries seem villages Dutch or Germans, everything is neat and there are no garbage around. We note that in all the menial jobs are occupied only by people of color ... there is still much to be done to achieve the equal sign in this country.
Orice (Oryx gazella)
At dawn we start to Namibia to visit the Kgalagadi Transfrontier Park formed by the South Africa, Namibia and Botswana: the first trans-national park, twice the size of most famous Kruger, where we have a nasty surprise ... there 'is not a free place to pitch the tents in pens equipped !!
This meant that the evening would have to go back to Upington going over 100 km.
Cotyledon orbiculata 
Aloe ferox
Conophytum filiformeThe enclosures are equipped places where visitors can stay in nature, in complete safety, both in the tent in the lodge, managed by the parks; the fences are electrified, there are toilets, petrol stations, supermarkets etc. Keep in mind that the animals here are not those of Europe, those who are used to seeing, but lions, hyenas, rhinos, etc .: that's why we humans put in a cage ... for our safety !! Always tied to this, every car that enters and is recorded, if the closing does not occur at the exit, the parks guard  go in search of the absentees. You have to walk the streets at 40 km / h, you can not go by car, the animals take precedence and if you get nervous and try to load the car is about to reverse quickly to safety.
Aloe dichotoma
The next day we head west again, Springbok destination and its surroundings filled with plants involved.
There are many varieties encountered in this journey and to not be too monotonous with the lists will name only the most represented genres in this country: Adromischus, Aloe, Bulbine, Caralluma, Ceraria, Cheiridopsis, Cissus, Conophyllum, Conophytum, Cotyledon, Crassula, Delosperma, Dinteranthus, Duvalia, Euphorbia, Faucaria, Gasteria, Haworthia, Kalanchoe, Lithops, Orbea, Pachypodium, Pelargonium, Piaranthus, Sanseveria, Sarcocaulon, Senecio, Stapelia, Titanopsis, Trichodiadema and many other varieties.
Crassula hemisphaerica
Arrived at Springbok the meeting with Aloe dichotoma leaves us speechless ... They are a beauty and harmony difficult to describe. Calls from local tree Férétra because the Bushmen use parts of them to construct the quiver containing arrows with poisoned tips that are used for hunting.
We go to the north to Aninaus Pass where there is a persistent rain and not good for the digital machines; then we go to the south, towards Cape Town with stops encountering various fields of quartz where the plants stand out so spettacolare.
Euphorbia heptagona 
Now we enter to the Little Karoo and Great Karoo where there are a lot of good places for plants and where begins the territory with more Haworthie's sites.
Haworthia arachnoidea ssp. aranea
 We arrive at the sea, it's not the season to see whales but in the De Hoop nature reserve you can meet the head of the rare zebras and many other animals.
Pachypodium bispinosum
We sleep in tents in the park equipped place among the many sounds of nocturnal animals. It comes back to hunt for plants through Riversdal, Ladismith, Calitzdrop, Oudtshoorn, Uniondale.
A Willowmore the night temperature falls much (remember that it is winter here) and we wake up in the morning with ice in tents.
The crossing of the Baviaanskloof is challenging, we have to cross many rivers and fords ... we do not have an SUV but with a little 'luck and skill we do that here too a wonder for both plants and animals, this is also a nature reserve.  
We leave the valley at 19 o'clock, eat something quickly and decide to travel all night to get to Pongola (border with Swaziland) without missingaday ... almost 1400 KM !! 
Impala (Apyceros melampus)
We arrived there at 11 o'clock the next morning, we bring our stuff in the tent camp in the bush and the 14 are in a boat with a fishing parks guard to make the two men ... 
Giraffa

We stay here for another 2 days Tigerfish fishing (catch and release ... do not kill animals!!) chased by a hippo! The sheet of water where the fish are biting is his territory and just sees us trying to load the boat; the biggest problem is that, if we fall into the water, the crocodiles would make a good meal ..
We leave to the North Kruger, the most famous park awaits us.
Elefante africano (Lexodonta africana)
Along the road are still many plants and animals.
The Kruger is a Transfrontier Park composed of South Africa, Mozambique and Zimbabwe. It 's definitely the place where you can see the largest number and variety of animals: lions, elephants, rhinos, giraffes, crocodiles, hippos and many other species dusk ... we have the good fortune to meet a leopard with a unique and magnetic beauty.
Leopardo (Panthera pardus)
We sleep in tents in one of the fields electrified and in the evening as we make a grilled arrive hyenas just outside the safety net ... an indescribable spectacle.
Our vacation is almost over, we return to Johannesburg for the flight that will take us back home.
Hello Africa .. all too beautiful and interesting: surely a goodbye.
P.S. Not being experts on African plants we asked for help from people who know them well, but it is difficult classification without flowers (at least some kinds), if someone has to report errors please use the email in the "Contact". Thanks so much.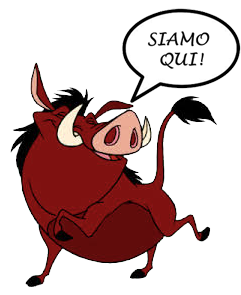 * Warthog in the maps will mark the area we're talking about