Details

Published on Tuesday, 04 February 2014 06:50
Written by Super User
Hits: 1192
A small flash to inform all the friends who follow us that the menu "Photogallery", "Our Travels" and "Our Videos" was published on our trip to South Africa in 2013.
Good vision and good reading
Details

Published on Wednesday, 13 November 2013 11:15
Written by Super User
Hits: 1323
Good morning to all! Please note that from today by clicking on the NEWS menu, you can access the "Cactus Friends Party": here you can see all the parties divided by year.
Details

Published on Friday, 23 August 2013 06:16
Written by Super User
Hits: 1282
Due to popular demand the return CACTUS FRIENDS PARTY! You are all inviatati September 1st!

The party is independent and free from any association: you are all invited, bar none!

MEET THE MENU' :

- Convivial aperitif in the morning;
- Suckling pig on a spit;
- Grilled mixed meats;
- Cheese "Schiz" (typical Belluno) up to the plate;
- Beans "sofeghai" (dish Feltre);
- Polenta;
- Mixed vegetables side dish.
... for everything else ... SURPRISE! We look forward


The program includes:

09:00 Opening of the festival
10:00 Johann Jauenig Conference entitled: "Ariocarpus in bloom wonders in habitat"
11:00 Michael Kiessling Conference entitled "Echinocereus"
12:00 Aperitif
12:30 Packed covered (including the famous porchetta)

The party will continue into the evening ...

Guests will be:
- Roberto Rastelli (IBR Book);
- Prof. Carlo Zanovello (nursery "Il sole rarità botaniche")
- Pensa Sandro (nursery "The Saguaro")
- Michael Kiessling (nursery Chiemgau Kaktus)
- Giulio Golinelli (works of art inspired by succulents)

GUEST FOR ANY SITUATION ASK TO BE CONTACTED DIRECTLY

Also there will be a photo exhibition themed with shots of Robert Siniscalchi Baglioni and Stefano

For information please contact us through the website or over the phone, after 20 to 0439 42436
---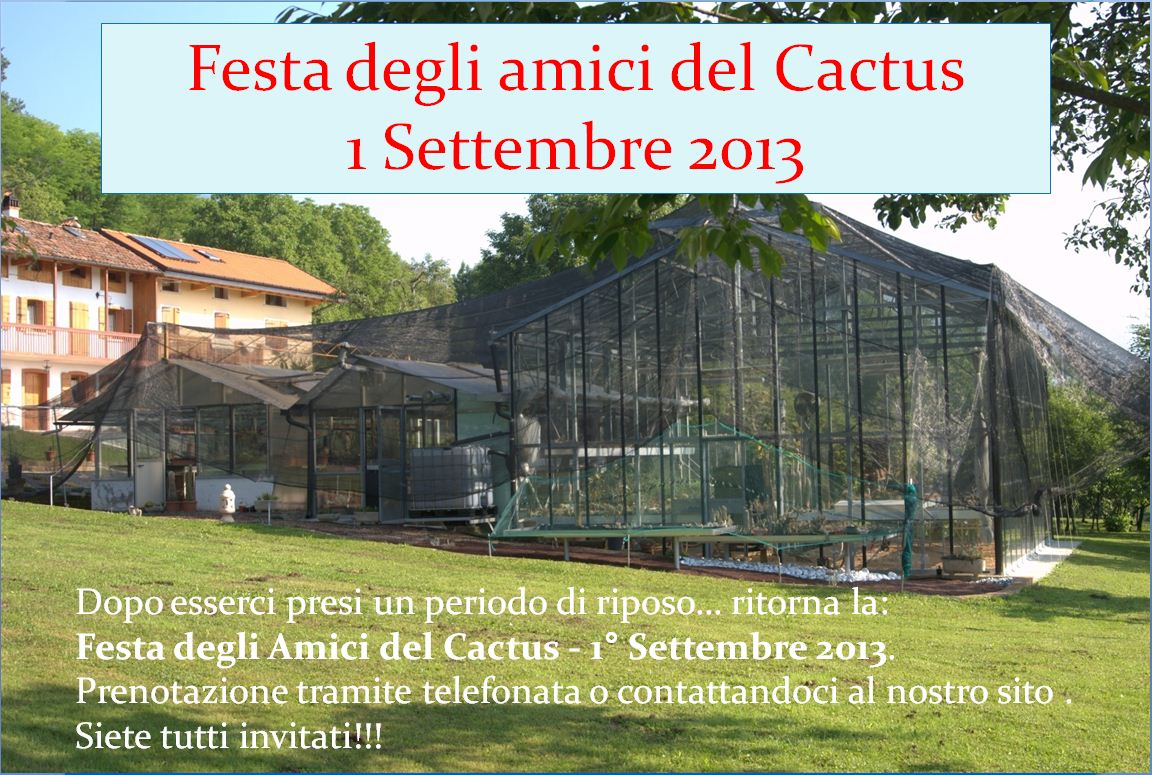 Details

Published on Monday, 19 August 2013 06:30
Written by elvia
Hits: 1214
On 25 and 26 May in the exhibition center of the city of Trento was held by the group Cactus Trentino South Tyrol's renowned trade show Eurocactus.

Trentino friends were able to further improve the already great event by increasing the number of exhibitors, setting up a captivating choreography of welcoming visitors and offering lectures very interesting. is undoubtedly a great example of how the collaboration of a cohesive group leads to excellent results.

We have met many friends from many parts of Italy and meet other enthusiasts.

On Saturday evening the dinner was the completion of a special day.

To friends Trentino you can only say: good guys keep it up!

you can look at some pictures by clicking below ... and see you next year!
ps: I found the link to their website in OTHER / WEB LINKS
Details

Published on Thursday, 25 July 2013 05:26
Written by Super User
Hits: 1374
FLASH NEWS: on "OUR VIDEOS" menù you can find new video about our journeys on Argentina (2011 e 2012).
We hope you like it ... Enjoy!!