New publication
Details

Category: Notizie
Published: Monday, 07 November 2022 11:18
Written by Cedric Dal Magro
Hits: 178
It is with great pride that we inform you of our recent publication in Avonia magazine.
Find some pictures of our article in the magazines section
Cactus Trentino Sudtirol Association "Ferragosto" barbecue 2022
Details

Category: Notizie
Published: Thursday, 01 September 2022 06:21
Written by Cedric Dal Magro
Hits: 208
It is not "Ferragosto" (August 15th) without the barbecue of the friends of the Cactus Trentino Südtirol association.
This year we are back to basics after the years of change of location due to the Covid emergency.
We arrived in dribs and drabs from 11 but all those who worked on the preparation were already as good as ready.
The lavish aperitif accompanied the first chat and hugs and took us until lunchtime: all really delicious. Applause to the cooks !!
Lunch then continued until dessert and coffee, waiting for the famous lottery with numerous seedings of Aldo Delladdio up for grabs, some offered plants and the beautiful creations of Sil ceramiche's Bolognese friends (Casalecchio sul Reno).
After the lottery there was the group photo (almost complete), we fixed the next appointments after the goodbyes we returned home happy for having spent such a beautiful day together.
Click below to see images of the day
Klagenfurt May 2018
Details

Category: Notizie
Published: Monday, 28 May 2018 08:42
Written by Super User
Hits: 1191
On May 12th, after having enjoyed the last years of the beautiful fair in Klagenfurt, we decided to go again this year: and what better opportunity to make a nice gathering of friends ??

From Veneto and Friuli we left at dawn to arrive in opening hours: Elvia and Moreno had already risen the night before. Me, Sergio, Francesco, Elena, Giorgio, Giuliano, Franco, Carlo, Moreno (R.) and Mattia found ourselves at the last autogrill before the border. Coffee, ritual greetings and then off to the fair!

Arrived we find almost everything ready ... it starts with the ride ...

Outside there are plants from particular gardens, trees, shrubs, aquatic plants, fruit orchids and carnivores ... in short, there is something for everyone!

Once inside the complex we immediately faced the refreshment point and on the right the association's counter; a few meters and we are in the exhibitors' salon.

As you enter we find Elvia and Moreno, with the close prof. Zanovello with Luigina: some greetings and we start with purchases!

In full style of our meeting mid-morning and at lunch we set the banquet, behind the van of Giorgio, to which everyone has participated with something and we revel in great: come also friends of Rome with cultural exchanges of wine ...

Afternoon relax ... chat ... last purchases ... a couple of good beer ... and at 4 pm it's time to remove the noise and free the hall.
We help to load everything and take the road back ...

Shortly after the border, a stop in Camporosso for the afternoon picnic: the company is some of the best and there is no lack of laughter. Sazi in every sense we drink a coffee and we all hug with the hope to see you soon again to spend a beautiful day together.
Thanks to everyone, you're the best!
Paella Mission 2017
Details

Category: Notizie
Published: Monday, 10 April 2017 09:05
Written by Super User
Hits: 1617
... it was too long that you did not meet together ... each one taken from their own commitments as is the norm ... and a good day, almost jokingly, leaves a mess of messages ...and organizes a reunion with our friend Giorgio ... and given the spark that started the whole thing he was called: PAELLA MISSION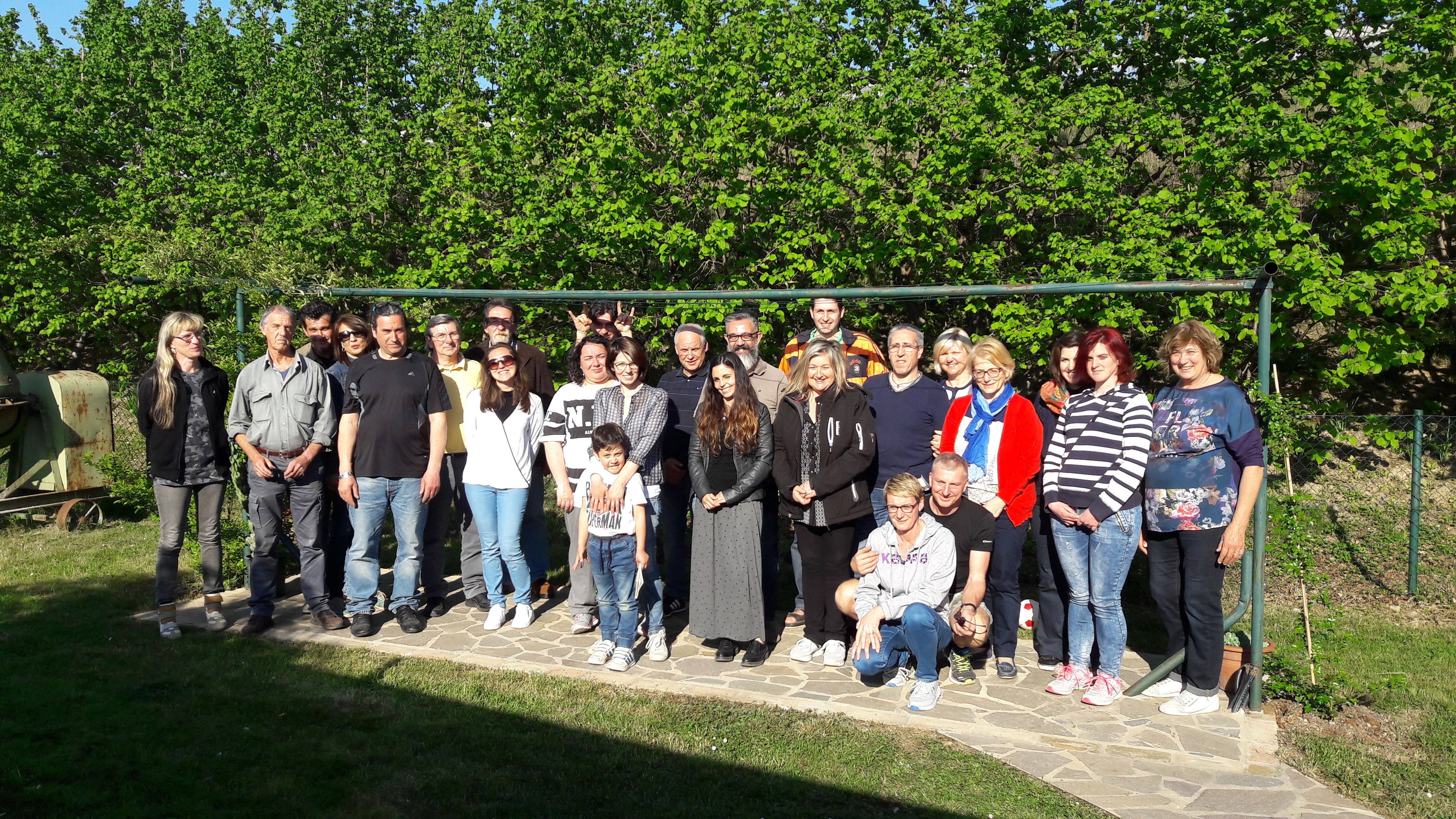 Date decided on April 9 ... We are (in order of photos) Elvia, Sergio, Claudio, Silvia, Moreno, Alfredo, Giuliano, Raffaella, Carlo, Erika (VR), Erika (VI) and Fabio, Paolo, Nicolò, Eleonora , Francesco, Wanda, Ignazio, Luisa, Nicoletta, Elena, Enrica, Miriam, Cristiano, me and of course the SUPER hosts Fabiana and Giorgio. Unfortunately our dear Frankus could not be ours but we were still close to thinking.
Friulian friends prepare the Paella, Fabiana and Giorgio also put the house and everything else, and we all bring something in our usual way.
Sunday does not seem to arrive .... but the wait ends and the morning is good we all go to Cervignano!!
They are all already busy with the preparations and, after greetings, we put on the sleeves and we try to help some of us too: after preparing the starters and the table let the chefs to their most important task and let us talk and observ the wonderful Giorgio's plants.
The day is fantastic, as well as the wonderful company there is a wonderful sun, and the temperature is pleasurable
Time passes fast when Giorgio gets up in the chair thank you all (we will have to thank him), he calls us to the table and invites us to form the queue for the sobbing PAELLA !!
After several entrees, including the mythical Russian salad of Silvia ... it goes in the order with Paella, Caponata, various meats, polenta and vegetables ... in the middle of the lunch the friends Erika and Cristiano announce that Fabio and Lorenzo will have another little brother or sister .. we will all new aunts and aunts !!!! Let me imagine the emotion ... THANK YOU FOR SHARE WITH US THIS BEAUTY NEWS !!
... relaxed a little emotion and after finishing the lunch you save the big and then a little pause

During this break we continue to chat and look at the beautiful plants of Giorgio, who, as always, always accompanies us in the visit.
Time seems to fly ...
As soon as you open a bucket we pass all over to sweets, coffee and digestives ... and seeing the proximity to Easter could not miss the egg !!
We arrived at the end of this beautiful day together. Great day out of friends, breaking away from everything, sharing a part of yourself ... the only sore note is that it's over!
I thank everyone for attending, especially Silvia, Claudio, Erika and Alfredo and Paolo, considering the distances they had to cover; I take advantage again, never enough, to thank the hosts for their kindness and sweetness in welcoming us to their home. You are wonderful!! We are all a pretty family
Ps: To remember this day I attach a few photos taken by several friends present.