"Meeting" in Palmanova
Details

Category: Notizie
Published: Monday, 22 December 2014 06:03
Written by Super User
Hits: 1468
It all started from a single message around November:
"We can not wait to meet this spring, let's meet before the holidays ..."
And so started the organizational machine !!
All were happy to join the meeting launched my and Giorgio idea: right away all that were there gave their ok (unfortunately Francesco and Sergio for commitments could not be with us in any any possible date ). Designated date December 21 for lunch.
Starting up early from Belluno, Verona, Vicenza etc ... appointment to the greenhouses of Franco at 10:30.
During the trip comes to all a greeting from the great Giorgio makes us a nice overview of the situation and warns us that we will find the equally great Giuliano to welcome us.
A little 'time to come all: Giuliano (which is already there), I, Eleonora, Wanda and Michele, Elvia and Moreno, Cristiano and Erika, Nico and Nicoletta, Erika, the great Alfredo who has come all the way alone (!!), the magnificent Claudio and Silvia who come from far away to give us their wonderful company, Miriam, Roberto, Loris, Enrica, Carlo, Raffaella and Marco, Giorgio and Fabiana and, last but not least, the beloved Franco who reurn from work.
After several strolls for greenhouse and choosing some plants we go to lunch: destination "Trattoria" / Farmhouse "Da Ivan". Great company and great food ... what else ??
After chatting and eating properly we salute (someone stays longer) making greetings and promising to meet again soon.
A special thanks to the two columns of Friuli Giuliano and Giorgio ... THANK YOU !!
THANKS FRIENDS OF TRUSTING US MADE TO SPEND A BEAUTIFUL DAY TOGETHER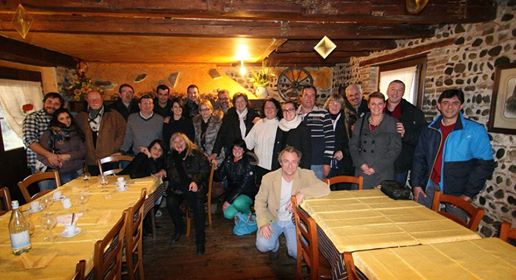 Thank Giorgio for this photo